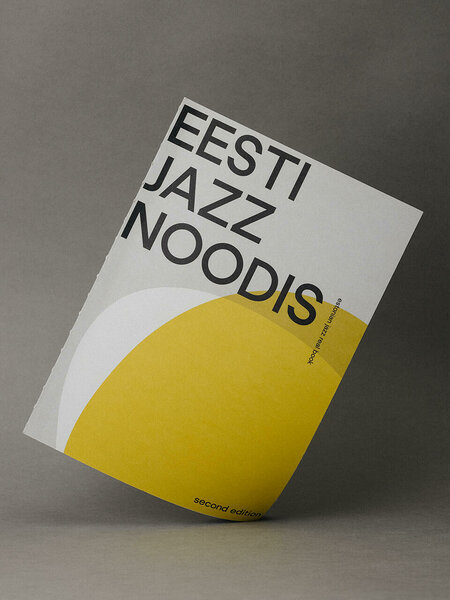 Estonian Jazz Real Book 2
€18.00
"Estonian Jazz Real Book 2" is a follow-up to the first Estonian jazz real book, published in 2016, which then celebrated the 90th anniversary of the first jazz concert in Estonia. The collection is intended for musicians, music students and enthusiasts alike, to introduce and encourage the playing and practising of Estonian jazz music.

The new "Estonian Jazz Real Book 2" contains 140 pages of music from 68 Estonian jazz musicians and composers such as Kristjan Randalu, Liisi Koikson, Marek Talts, Ain Agan, Raivo Tafenau, Marianne Leibur, Jaak Sooäär, Joel Remmel, Siim Aimla, Robert Jürjendal and many more.

The tunes are presented in a simple lead sheet format. In order to make the book suitable for use as a teaching material, the tunes are divided into three different levels and in addition to sheet music, most of the songs are also available as recordings.

NB! For orders outside of Estonia, please write directly to info@readkirjastus.ee.
Content:


Ain Agan – Kuu (outro by Raul Sööt)
Ainar Toit – Unelm
Aleksander Paal – True Seeker of Dark
Aleksandr Žedeljov aka Faershtein – Faershtein
Aleksandra Kremenetski – Time To Listen
Allan Järve – The One Who Knows
Andre Maaker – Titled Ballad
Andres Alaru – A Ballad
Anett Tamm, Martin Petermann – Second Plan
Bianca Rantala – Valed värvid
Eduard Akulin – King's Dance
Ele Millistfer – Märkamine (text by Avo Üprus)
Erki Pärnoja – Tumedamad lained
Hedvig Hanson, Kristjan Randalu – Selles öös nii palju oli valgust (text by Ilmi Kolla)
Helin-Mari Arder – Kastelõhnane hommik (text by Viivi Luik)
Henri Peipman – 30. detsember
Holger Marjamaa – Holger's Tune
Ingrid Rabi – I'll Get Over You
Ivi Rausi – See olengi mina
Jaak Sooäär – Waltz for A.A.
Jana Kütt – Moment Unwind
Janno Trump – Reflections
Joel Remmel – Õunamahlategu
Johannes Laas – Lumi
Kadri Voorand, Mihkel Mälgand – I'm Not In Love
Karl Madis Pennar – Strawberry Fields
Karmen Rõivassepp – Tallinnas (text by Juhan Liiv)
Kaspar Kalluste – 11 kuud
Kelli Uustani – Red Diary
Kirke Karja – Off the Ground
Kristjan Randalu – When I Know the Answer (text by Maian Kärmas)
Lauri Kadalipp – 23. mai
Lembit Saarsalu – Flight Over the Desert (text by Irmeli Saarsalu)
Liina Saar – Tänavakunstnikule (text by Lauri Saatpalu)
Liisi Koikson – Bittersweet
Linda Kanter – Right Beside You
Maarja Aarma – Speechless
Madis Muul – The Poet
Mairo Marjamaa – Statement
Marek Talts – Lootus
Maria Faust – Salacia
Maria Väli – Korduv, uus
Marianne Leibur, Kalju Terasmaa – Kaunid hetked
Mart Soo – Pilves päike
Mathei Florea – Yond
Matthew Hyde – Karupoja tants
Meelis Vind – Cypress
Mingo Rajandi – Lucid (text by William Blake)
Paul Daniel – Üü yeah
Peedu Kass – Cinema Paradiso (text by Maian Kärmas)
Pille-Rite Rei – Mustmiljon liblikat (text by Tiiu Värkraud)
Raimond Mägi – Mure
Raivo Tafenau – Surfing in Your Mind
Ramuel Tafenau – Home With You
Raul Sööt – One More Secret
Raun Juurikas – Hommikuetüüd
Rebecca Kontus, Matis Metsala – Metsateel
Robert Jürjendal – Nostalgia
Siim Aimla – The Lake (text by Maian Kärmas)
Susanna Aleksandra Veldi, Joonas Haavisto – Summer Came Early
Tanel Ruben – Kas tahad ma jutustan laulust (text by Kadri Voorand)
Teet Raik – Hetk rannal
Tiit Kalluste – After Eight
Tobias Tammearu – Barloov
Toomas Rull – … and I don't know anything at all!
Tuuli Velling – Rõõm on sama tõene kui kurbus
Tõnu Naissoo – Sõnum
Urmas Lattikas – Ööliblika tants